Tetatet
Tetatet is the best lamp to get the right light for both an intimate table or a finely set buvette
Tetatet is characterized by a minimal design that can combine different technologies. It is a unique and original table lamp, which allows you to bring light wherever you want and whenever you need it.
To create a magical and unique atmosphere, full of Serendipity!
Product details
Emotional, intimate and light. Tetatet is a battery-powered centerpiece with led technology and magnetic fixing, suitable for any kind of setting.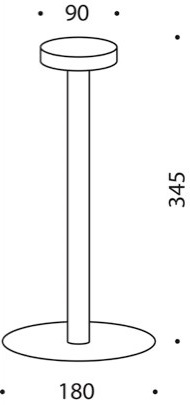 Shapes are defined by different needs: the batteries are stored in the stem of the lamp, while the led technology is located in the head. Small proportions and the magnetic base allow the lamp to be placed easily on each table, above or below the tablecloth, adapting it to every requirement.
Battery-powered led centerpiece
Battery life: about 8 hours
Color temperature: 3000K
Base della lampada magnetica
Colors: White
ON-OFF Switch